About EXIT 13
SOME INFO
Exit 13 started life in the early eighties as Emergency Exit, after numerous gigs in their native town of Ipswich (East Anglia, UK), the band decided to move to London after attracting record company interest from their early demos.
On arriving in London the band carried on gigging and also met their producer, Nick Head, who suggested the band release their first 7" single.
'Fields of Joy' was recorded in the Summer of '85 and released later that year picking up radio and good press reviews straight away.
Over the next few years the band released two more singles in a similar psychedelic folk vein, 'Over the Bridge' 7" and 'Perfect Dream' 12" plus an album called 'Celias Last Wednesday' which received alot of interest again and resulted in the band doing a ten date German tour in 1989.
Singer/song writer Steve Mann then moved back to Ipswich and has carried on with Exit 13, still gigging occasionally and releasing a 7" single in 1993 'Soldiers and Sailors' and a CD album in 2002 called 'The Return of Captain Friday' and another album called Three in 2004.
Latest release from Exit 13 is a cd album called Sturmey Archer.released Sept 2010.
A New album is being recorded for release in 2014.
The line up for this album and live gigs is
Steve Guitar -vcls gtr
Chris Ratcliffe/Ally Last -Bass
Chris Flory- Second guitar
Richard Woodward/Mike Summers-Drums
Belinda Shave -Cello
Steve Plays all the instruments on Three,but we are going to do an EP with the full band soon.
Exit 13 have used the same basic lineup over the years, this being:
Steve Mann - songs, voice and guitars
Carlton Hunt - drums
Paul Hunt - guitar and mandolin
Other various musicians have been used to record and gig over the years, the earlier musicians are:
Kevin Miller - bass
Rosie Best - cello
Susie Honeymoon - violins
Ros Willey - violins
Dave Lloyd Williams - keyboards and bass
The History or Story Behind the E 13 site and release so far
exit 13 have a website (this one)which is still ongoing,so keep looking!

SQA013 SQUAD RECORDS 7" SOLD OUT
EXIT 13 A - FIELDS OF JOY B - THE DARK ROOM

SQA014 SQUAD RECORDS 7" EXIT 13 A - OVER THE BRIDGE AA - FINAL SUNSET

SQA015 SQUAD RECORDS 12" 4-TRACK EP SOLD OUT
EXIT 13 A - PERFECT DREAM/WHERE'S THE SEA IN IPSWICH? AA - FIELDS OF JOY/FINAL SUNSET

SUF003 BACKWATER RECORDS 7"
EXIT 13 A - SOLDIERS AND SAILORS AA - LET'S MAKE IT HAPPEN

ALBUMS
LOS001 ARTLOS RECORDS(VINYL) EXIT 13- CELIA'S LAST WEDNESDAY SOLD OUT

OLKCD007 BACKWATER RECORDS(CD) EXIT 13-
THE RETURN OF CAPTAINFRIDAY FRIDAY FRIDAY

OLKCD012 BACKWATER RECORDS CD ALBUM
"THREE"
OLKCD019-"STURMEY ARCHER"
New album out soon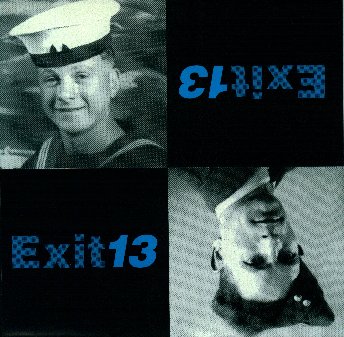 information about the band
the band has been going many years releasing albums and singles at a very sporadic rate ,the main songwriter is steve mann ,the drummer is carlton hunt,lead guitar is by paul hunt on the earlier releases,the rest of the band is made up of various members on different sessions.
The current line up
is Steve-Gtr Vcls
Rick/Mike on Drums
Chris R/Ally on Bass
and Chris F/Mike on 2nd Gtr
Bel-Cello
we would love to hear from you!-steve@backwaterrecords.com
Links to Other Sites