EXIT 13 HOME PAGE
WELCOME TO WONDERFUL AND STRANGE WORLD OF EXIT 13
EXIT 13 HAVE A NEW ALBUM PLANNED FOR MID 2014 .THE ALBUM WILL BE IN A SIMILAR VEIN TO THE PREVIOUS SINGLES AND ALBUMS THEY HAVE BEEN RELEASING OVER THE YEARS, STILL IN THE POP PSYCHEDELIC MOULD, WITH A TINGE OF COUNTRY AND FOLK.
CHECK OUT WWW.BACKWATERRECORDS.COM
also available here-
https://itunes.apple.com/gb/album/celias-last-wednesday-plus/id315906193
WHATS HAPPENING?!
LATEST ALBUM OUT NOW CALLED "STURMEY ARCHER" PLUS NEW ALBUM PLANNED FOR MID 2014.
EXIT 13 ARE ALSO GOING TO RELEASE ALL THE OLD MATERIAL ON CD SOON
ALL EXIT 13 RECORDS ARE AVAILABLE FROM -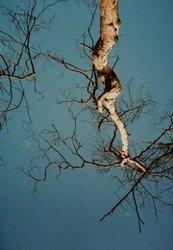 A TREE
THIS IS THE TREE WHERE IT ALL BEGAN MANY YEARS AGO
Reviews
He is easily Suffolk's answer to Brian Wilson" East Anglian Daily Times "
A hugely enjoyable set of quirky memorable numbers" Grapevine
"The Byrds are an influence and the band pull it off faultlessly" Cross Rhythms
"Very 60s, very 90s.... let's hear it again" Teletext
"Get a load of the Syd Barrett-still-lives ambience of Exit 13's psychedelic offering." NME .
EXIT 13 teletext review -EXIT 13 are a four piece band who are effectively a vehicle for steve mann the founder and MD of the longstanding Ipswich Indie label Backwater. Their third album confirms Mann as an indefatigable low rent Beck ,an auteur as happily to draw from electro-stomping glam rock and ambient experimentalism as from indie rock. Its jerkyjokiness can lead it into novelty territory but the Dylanesque "not us this time" and TREX like "How do you do" betry an original talent.
THE LOGO
My Space-https://myspace.com/theoriginalexit13